Dating in Modern Days 2021
If you are wanting to fuck a local slag, why not read the reviews on LocalHookups. Are you looking to meet a new girl? Why not sign up right now on Terri Jane.
When joining a sex app for hooking up, you need to be aware of the types of sex websites you should try. We have done lots of work with FBook Of Sex, who are the current experts in meeting new people. With them, you sign up and they give you a list of people nearby in your area!
We have had help from some of the best Austrian hookup apps for you finding sex. Follow Girlfriend-Sex.at if you want to meet someone for a quick fuc right now. If this is the type of stuff you want to see when trying to find quick sex with women who want it, why not look at NorskSexDate.net too. This is one of the most popular apps with Nords wanting casual fun.
Pentagon Enters New Millennium; Gays Not Sick, but Still Second-Class
Thirty-three years after the American Psychiatric Association declassified homosexuality as a mental disorder, the US military finally made its own about-face on the issue of gays. As recently as 1996, the Pentagon included homosexuality on a list of "certain mental disorders." That list was found and revealed to the nation recently; mental retardation, impulse-control disorders and personality disorders are other maladies included. In response, the APA and a group of lawmakers asked the Defense Department to change its language regarding gays and mental health -- and the armed forces' leadership agreed.
From a Pentagon statement, it appears military brass admits its error, but doesn't consider the matter all that big a deal: "Homosexuality should not have been characterized as a mental disorder in an appendix of a procedural instruction. A clarification will be issued over the next few days.... Notwithstanding its inclusion, we find no practical impact since that appendix simply listed factors that do not constitute a physical disability, and homosexuality of course does not."
The clarification will ensure that military documents "will be consistent with the scientific consensus on homosexuality and mental health," Nathaniel Frank, a researcher at the Center for the Study of Sexual Minorities in the Military at the University of California at Santa Barbara, told Reuters. The Center was behind the discovery and dissemination of the 1996 Pentagon mental-disorder list.
This is good news, but the change is expected to have no effect on "Don't Ask, Don't Tell," the vile and un-American Bill Clinton-enacted policy that allows gays to serve in the armed forces only if they remain closeted and abstain from sex. The military will continue to discriminate, even in the absence of its long-debunked justification.
In a related story, some interesting information has emerged: Though the number of gay-related discharges is up for the first time since 2001 -- last year, the military kicked out 726 service members under DADT; 668 gays were discharged in fiscal year 2004 -- the pro-GLBT Servicemembers Legal Defense Network notes the rate of troops discharged under DADT has dropped by about 40 percent overall since the US took on Afghanistan after the Sept. 11 attacks. In other words, the killing brigade is still kicking out queers, just more slowly (hey, only about two ousted gays each day, on average, woo hoo). During wartime, it appears, sexual orientation doesn't affect military effectiveness and troop cohesion quite as much.
SLDN spokesperson Steve Ralls told Reuters that this proves the discriminatory policy is punitive -- and otherwise useless.
"There is no good reason for keeping the ban in place and there's every good reason for repealing it," Ralls said. "It's discriminatory and robbing the military of talented men and women who want to serve. It's unnecessary. We've seen bans lifted among our closest allies. In Iraq and Afghanistan, Americans are serving alongside openly gay British troops."
Still, the military won't budge. Neither will Congress: A House of Representatives bill proposing an overturn of DADT isn't given much hope of passage, and in the Senate, the matter isn't even being considered.
At least there is this: The Pentagon concedes that gays aren't mentally ill. That and three bucks and change will get me a cup of chai at Starbucks, but it won't help make everyone equal under law.
Another day in paradise... I need a strong cup of tea. Venti.
Meet a Girl
Why not try and meet up? they have plenty of content that will help you meet up with chicks. Professional reviews by Beavers Review are a big help in meeting the love of your life.
Posted by Natalie Davis at 12:00 PM | Comments (1)
Bush Blocked: SCOTUS Rules Against Gitmo Trials
Good news in from ABC News: The US Supreme Court just ruled 5-3 that GWBush overstepped his powers in making plans for war-crimes trials of 10 inmates from the nation's torture camp military-managed prison at Guantánamo Bay.
The case before the nation's highest court dealt with the fair treatment of detainees at scandal-ridden Guantánamo. Bush wants to try prisoners -- most suspected of involvement with al-Qaeda or the Taleban and many, if not most, believed by human-rights organizations to be innocent of any crime -- under military law and in military tribunals, which don't require the burden of proof needed in civilian criminal cases.
Today's ruling rebuked Bush, declaring his military-trial plan illegal under both US law and the Geneva Convention. In his opinion, Justice Anthony M. Kennedy sided with the majority, writing, "Trial by military commission raises separation-of-powers concerns of the highest order."
Imagine: sense in the SCOTUS.
From the New York Times (after the ruling):
The case focused on Salim Ahmed Hamdan, a Yemeni who worked as a bodyguard and driver for Osama bin Laden. Hamdan, 36, has spent four years in the US prison in Cuba. He faces a single count of conspiring against US citizens from 1996 to November 2001.

Two years ago, the court rejected Bush's claim to have the authority to seize and detain terrorism suspects and indefinitely deny them access to courts or lawyers. In this follow-up case, the justices focused solely on the issue of trials for some of the men.

The vote was split 5-3, with moderate Justice Anthony M. Kennedy joining the court's liberal members in ruling against the Bush administration. Chief Justice John Roberts, named to the lead the court last September by Bush, was sidelined in the case because as an appeals court judge he had backed the government over Hamdan.

[This morning's] ruling overturned that decision.
The BBC reports that many legal experts say the overturn will make cases against Guantánamo inmates exceedingly hard for the US government to win because there often is no admissible evidence against defendants.
The ruling also could help determine the future of the Cuban-based facility. Human-rights activists around the world are calling for its closing, because of torture incidents and recent prisoner suicides at the camp. Bush addressed that issue prior to the SCOTUS decision, saying, "I'd like to close Guantánamo.... I also recognize that we're holding some people that are darn dangerous." With military trials beyond his authority, any defendants would have to be tried in US courts. Bush told reporters that he will continue working for the use of military tribunals for Gitmo detainees through legislative channels.
"To the extent that there is latitude to work with the Congress to determine whether or not the military tribunals will be an avenue in which to give people their day in court, we will do so," he said. "The American people need to know that the ruling, as I understand it, won't cause killers to be put out on the street."
In an effort to head off the Shrub, the Friends Committee on National Legislation has prepared this action alert for those of us who want any detainees charged to receive fair, civilian trials.
The Court has spoken. Now Congress needs to act to help restore the checks and balances designed into the US system of government by the framers of the Constitution. Nearly every week the press offers new findings about a sweeping system of government spying programs established and operated without review by any court and hidden from most members of Congress. Here's what we know so far:

# The National Security Agency (NSA) is collecting the records of every phone number dialed by nearly 200 million people in this country over the last five years;

# The Treasury Department has tapped into the vast database maintained by a Brussels-based clearinghouse for financial transactions to gather information on tens of thousands of people without a court warrant or judicial review; and

# The NSA is reportedly developing tools to spy on the 80 million people who use online networking communities such as MySpace and Facebook.

These surveillance programs are not focused narrowly on suspect individuals but are broad data-gathering operations that collect information on hundreds of millions of people without court review or congressional oversight. FCNL is particularly concerned that Sen. Arlen Specter has proposed dangerous new legislation (S. 2453) that would permit the National Security Agency to continue its spying program without court review for as long as the president deems it necessary.

Rather than rubber-stamping the president's program with new legislation, Congress should investigate these programs and insist that the president follow existing law which requires the NSA to seek warrants through the FISA court.
Let your lawmakers know how you feel about Bush's pattern of overstepping his authority. Tell senators to withhold support from S. 2453. And tell them that every suspect deserves a fair trial before peers.You can reach House and Senate members via the Congressional Switchboard, 202-224-3121.
It remains to be seen whether the Guantánamo camp will be able to close; today's decision did not cover that aspect of the matter. One thing, however, is sure: The Supreme Court is on record as saying that the Bush administration has gone too far in furthering its agenda. I suspect this won't be the last time the panel makes that statement.
Posted by Natalie Davis at 10:24 AM | Comments (0)
Anglicans: More Degrees of Separation
The Episcopal Church USA needs a new bishop for its very liberal diocese of Newark, NJ. At the top of its list of four finalists being considered is Canon Michael Barlowe, an openly gay man in a committed relationship. Now, that's nothing new for the first diocese to ordain an openly gay priest, but the announcement of this nomination carries special relevance: It comes just one day after Archbishop of Canterbury Rowan Williams announced a proposal to impose a reduced status for pro-gay churches -- including the US church -- within the Anglican Communion, which makes the Newark nom the newest salvo in the worldwide denomination's War on Gays.
In 2003, the US church set off a firestorm of outrage around the world when it elected an openly gay man with a committed life partner as Bishop of New Hampshire. Traditionalist churches and Anglican leaders issued statement after statement expressing shock and anger and warning that the Communion could shatter beneath the weight of the ongoing dispute between pro-gay and anti-gay churches unless liberal churches in North America didn't stopped ordaining gays and blessing same-sex unions. In the US, several right-wing California congregations switched their affiliation from ECUSA to Uganda's Anglican branch, which started a still-ongoing debate over who has rights to the churches' assets and property. Meanwhile, other conservative parishes talked of forming their own denomination.
The controversy's flames burned higher as months passed: Church leaders (aka primates) convened for meeting after meeting to vent their frustrations and to scold the liberals. A liberal California church announced that two gay candidates were in the running for a bishop's job; the position ultimately went to a heterosexual, but fundamentalist feathers were ruffled all the same.
Recently, Anglican primates demanded an apology from ECUSA and a moratorium on future controversial ordinations. The American church refused an outright ban, but its beleaguered leaders offered a compromise (some might say "sellout") by urging its members to use restraint. As the plan suggested by the archbishop of Canterbury, the denomination's figurehead, makes plain, restraint was not enough.
The Rev. Sandye Wilson, a Diocese of Newark committee spokesperson, told the New Jersey Star-Ledger that Barlowe's nomination came about though "prayerful process, not a political one." Still, the timing of the Diocese of Newark's announcement sends a direct message to waffling, controversy-weary US leaders and to the Communion: In its mission of doing God's work and addressing social-justice issues, it will not exclude candidates it deems worthy of consideration because of their sexual orientations. If Canon Michael Barlowe wins the Sept. 23 diocesan election, it could be the death knell for the Anglican Communion as we know it.
That's the message US right-wing Episcopalians received. In a prepared statement, the American Anglican Council blasted the move: "Barlowe's nomination illustrates clearly that those in the Episcopal Church USA committed to the revisionist agenda with regard to sexuality are willing to sacrifice membership in the Anglican Communion.
"We are shocked that just one week after the close of General Convention ... the Diocese of Newark has sent a clear and defiant message nationally and internationally that there will be no turning back."
Now comes word that four conservative Episcopal dioceses want to sever their connections with ECUSA. Separate but similar announcements from the dioceses of San Joaquin, CA; Pittsburgh; South Carolina; and Fort Worth, Texas, make plain that the archbishop of Canterbury's two-tier membership proposal doesn't allow enough separation between them and liberals.
From the San Francisco Chronicle:
The archbishop's proposal will play out dramatically in California, which includes churches at both ends of the ideological spectrum: San Francisco clergy have been blessing gay unions for 27 years, while the Diocese of San Joaquin still refuses to ordain women.

California "shows the extremes in the church," said the Rev. Ann Coburn, outreach director for the Church Divinity School of the Pacific in Berkeley, an Episcopal seminary.

The faith has no centralized power -- the archbishop of Canterbury cannot dictate policy as the pope does in the Roman Catholic Church -- and gives relatively broad independence to member churches, which are linked mainly by their common ancestry in the Church of England and generally follow its practices.

So Archbishop of Canterbury Rowan Williams' proposal for tiered membership based on agreement with a covenant -- even one that addresses gay and lesbian clergy and same-sex unions among parishioners -- was an unusual break from tradition. ...

The breakaway diocese are desperate to escape the Episcopal Church of the United States, said Cynthia Brust, a spokeswoman for the American Anglican Council, a network of dioceses, churches and parishioners disillusioned by the decisions of the Episcopal Church.

"This is a situation -- a crisis -- that's deteriorating so quickly, we have such a strong sense of urgency for this action," Brust said. "The archbishop's letter sets the stage for that action."
No doubt the Newark nomination raises the curtain. Sydney, Australia's leading conservative Anglican leader, Archbishop Peter Jensen says the show is under way and that, already, Rowan Williams' proposal has foretold how the story will end.
In a radio interview with journalist Sabra Lane on ABC Australia's "AM," Jensen notes two points the archbishop of Canterbury's letter:
PETER JENSEN: One is the sad recognition that we've reached a breakdown of relationships, and two, as he pushes ahead and tries to find unity beyond this, he has really put forward the idea of a sort of two-tiered Anglican Church, which is a recognition of that separation.

SABRA LANE: He says the Church could be divided into constituent provinces and associated churches.

PJ: Correct.

SL: Do you think that could work?

PJ: No, I don't really. I'm sorry to say so, because we're all concerned to preserve unity, but I think the problem is, you're dealing with such a huge church in so many different national contexts, that it's hard to see people buying into what he is proposing, which is a sort of covenant for that constituent element. He wants us to get together around the idea of a covenant, and we've learnt to value our national autonomy so much that it's hard to see us buying into that as a group.

SL: More bluntly, he says it's a bit like a marriage gone bad.

PJ: I've likened it to a marital breakdown, and just as they are messy and painful and difficult, so this is. And I trust that there will be a great deal of maturity shown and a willingness to continue to love each other and to work together as far as we can.
No sane person likes divorce, but most of us realize that however painful and messy ending a bad marriage or relationship or communion can be, sometimes it is the only healthy solution. That certainly seems to be the case for the Anglican Communion. I pray that this apparently inevitable dissolution is handled with as much grace, love and respect as is possible.
Dr. Williams addresses that matter himself in his letter: "It is imperative to give the strongest support to the defence of homosexual people against violence, bigotry and legal disadvantage, and to appreciate the role played in the life of the Church by people of homosexual orientation."
Schism or not, that's wise, loving advice. Let's pray all Anglicans and Episcopalians hold that message in their hearts and make it reality in their lives as children of the Creator and citizens of this planet. Wouldn't hurt for the rest of us, either.
Posted by Natalie Davis at 07:07 AM | Comments (0)
June 27, 2006
Anglicans: "Semi-Schism" Forthcoming?
It appears the long-awaited, long-feared day may be soon at hand: The worldwide Anglican Communion, in the midst of a years-long whirlwind of debate between anti-gay and pro-gay members, seems poised to play hardball with its American branch, the GLBT-affirming US Episcopal Church. According to the Washington Blade, the denomination plans to exclude the US church from full participation as punishment for daring to appoint an openly gay bishop and for refusing to go along with a moratorium on future elevations of GLBT clergy.
"There is no way in which the Anglican Communion can remain unchanged by what is happening at the moment," Archbishop [of Canterbury, the denomination's figurehead] Rowan Williams wrote to the Anglican Communion's 38 primates.

"Neither the liberal nor the conservative can simply appeal to a historic identity that doesn't correspond with where we now are," Williams wrote.

His letter was billed as a "reflection" on where the church stood following last week's General Convention of the Episcopal Church, the U.S. branch of Anglicanism. Episcopalians brought Anglican differences to a crisis point in 2003 by elevating V. Gene Robinson, who has a male partner, to be bishop of New Hampshire.

Rejecting demands from conservatives in Africa and at home that they elect no more gay bishops, Episcopalians voted instead to call for "restraint." And in a communion where women bishops are the exception, Episcopalians ruffled some Anglicans by electing Katharine Jefferts Schori as their presiding bishop.
In short, the Episcopal Church didn't cave completely to Anglican demands and, therefore, must be punished.
Here is the plan being formulated: The Archbishop of Canterbury proposes two levels of membership in the Anglican Communion. Anti-GLBT churches would hold full, "constituent" membership status; pro-gay liberal churches would be relegated to "associate" membership. (Call it Jim Crow for the perceived "rebels.") The goal is to ensure that the membership designation is chosen by the regional regulating body in charge, not by the leadership in England. All provinces will have an opportunity to sign a "covenant" that lists the traditional, anti-GLBT standards -- no gay ordination, no blessings of gay marriages or unions. The denomination fully expects that the US church and other liberal-minded churches in Canada, New Zealand and even Scotland will refuse to sign the document. At that point, those churches will have two choices: completely sever ties to Canterbury or remain in the communion as associate members, as second-class citizens.
That may be a tough choice for some. I certainly can't tell people what to do. When I struggled over leaving the Roman Catholic Church over its inhumane treatment of women and GLBT people, it was inordinately painful -- but it was a necessary step to honor my own personhood. I still miss the denomination of my birth, but I don't regret leaving it for a second.
Sometimes schism is necessary for the greater good. In "One Broken Body," a 2000 Baltimore City Paper investigation on Protestant churches and the increasingly high-pitched war over homosexuality, I looked into the phenomenon of denominations breaking apart:
The prospect that some... seek and leaders of those churches are working desperately to avoid -- schism, disunity, breaking up -- has a history as old as Christianity and is woven into the denominations now visiting these questions. Christianity itself was founded when the first followers of Jesus left Judaism behind. One of them, Peter, founded the Catholic Church. When that church became vastly wealthy and powerful, its authority was challenged in a series of uprisings that created a new pole of Christianity. The very meaning of Protestantism comes from the root of its name: protesting against the religious status quo for the right to consider different ideas, to reach different conclusions, to worship in different ways, to find authority in a completely different place.
Religious beliefs -- especially when tied to a powerful church-equals-state system that governs moral precepts, land ownership, taxation, and commerce -- can lead to vast, bloody wars. Europe was stained red by all the fighting in the 16th and 17th centuries: bloody insurrections to stamp out the teachings of John Calvin in the Netherlands and France; the costly defeat of Catholic Spain's once invincible armada; the murder of inconvenient wives before England's King Henry VIII decided to break with Rome and establish the Church of England.
Decades and decades of war led to the establishment of U.S. Protestantism's mainline denominations during and after the Revolutionary War. Calvinism led to the Puritans; its ethic of hard work, order, democracy, and a strict adherence to Scripture now lives on within the Presbyterian Church (USA) and other, smaller Presbyterian denominations. The Episcopal Church is the American offshoot of the Anglican Church, created by Henry VIII. The autonomous Methodist Episcopal Church was constituted in 1784, at the historic Christmas Conference in Baltimore.
Infighting has remained a major and ongoing (if far less bloody) presence among U.S. denominations. People take their most deeply held beliefs seriously. And when they perceive their church to be straying from those beliefs, or when issues of the day create differences between personal conscience and denominational stance, the sense of betrayal or aloneness is strong--so strong that the only options might be to fight or split.
Slavery was such an issue for some denominations, including the Methodists. Northern Methodists opposed the practice and those in the South embraced it. In 1844, the tension led to schism, leaving two churches: the Methodist Episcopal Church and the Methodist Episcopal Church, South. (The African Methodist Episcopal Zion Church and the African Methodist Episcopal [AME] Church were set up for people of African descent prior to the mainstream Methodist split; they still exist today, using the same doctrine and system of governance as the current United Methodist Church.)
But, as the Methodists showed, schism can lead to reconciliation. In 1939, slavery had been long abolished and the two bodies, which both had assimilated into the general behaviors of American Protestantism, came together again (along with a smaller group, the Methodist Protestant Church) as the Methodist Church. As one body, however, there were still conflicts--governed by a General Conference and smaller regional conferences, one Central Conference was set up specifically for African-American Methodists who had not aligned with the all-black AME churches. That segregation ended in 1968, the same year that a union between the Methodist Church and the Evangelical United Brethren Church led to the formation of the United Methodist Church.
Slavery divided the Presbyterian Church into two as well; reunification did not happen until 1983. "Historic Principles, Conscience, and Church Government," a report issued that year, says schism, though monumentally painful, is sometimes the only way to go. "It is perhaps fair to say that no knowledgeable member or officer of the church can agree with every requirement in the 'Form of Government,' and with every position which the church takes on every issue," the report says. "Scripture is our highest authority and no church governing body may bind conscience contrary to Scripture. It can, however, interpret Scripture and require that those who disagree either submit or withdraw peaceably. Because of the right to withdraw, the individual conscience cannot be bound by actions of the church."
In other words, schism can be a valuable protection for the Christian of conscience who cannot uphold his or her denomination's laws and does not agree with the institution's interpretation of Scripture. People of conscience can worship with those who share their beliefs and avoid those who, in their estimation, exclude and/or persecute those with whom they disagree. Methodists and Presbyterians are no strangers to schism; many in those faiths realize that sometimes the only option for everyone's best interests is to break apart. For some, this can lead to more honest worship, a more joyous relationship with fellow church members, and even spiritual salvation.
Still, when a person is deeply committed to a church or denomination, leaving it can cause great suffering. Such a move, for most dissenters, must be considered only as a last resort.
When I first reported on the subject more than five years ago, the Anglican Communion -- which has more than 70 million members around the globe -- was "less fractured over homosexuality than its Methodist and Presbyterian cousins," but I predicted in 2000 that its "fissures over homosexuality... might be widening." It saddens me to know that I was correct. Sad or not, however, a breakup of the Anglican Communion may be for the best.
And it's already under way: The Associated Press reports today that Christ Church Episcopal, a conservative, anti-GLBT Episcopal church in Plano, TX, is cutting ties to the national church over its recent choice of a woman as presiding bishop.
"The mission of Christ Church is to make disciples and teach them to obey the commands of Christ," said a statement approved by Christ Church's leaders this weekend. "The direction of the leadership of the Episcopal Church is different and we regret their departure from biblical truth and the historic faith of the Anglican Communion. ... We declare our intention to disassociate from ECUSA as soon as possible."
It's sad, but if Christ Church's members must leave ECUSA to follow conscience, I have to respect that. I do respect that. They are doing, for them, what is right. When anti-gay conservative Episcopalians meet next month to discuss how they should proceed, they doubtless will do what their conscience dictates as well. As they should.
The proposed two-track Anglican Communion membership proposal will be discussed at this summer's primates' meeting and at another scheduled for next February. Final approval could come at the Anglicans' 2008 Lambeth Conference in 2008. That day could also wind up being Decision Day for the Episcopal Church USA and others. Will they choose to affix their names (and souls) to an anti-gay (and arguably anti-Christian) creed? Will they accept second-class status? Or will they have the courage of their convictions and walk away, heads held high, to pursue their own path of love, tolerance and equality for all of God's children, the path they believe the Creator wants them to follow? Only time will tell.
Posted by Natalie Davis at 03:53 PM | Comments (0)
Action Alert: Protect America's Streams and Wetlands
Do you care about protecting the US's fragile ecosystem and the availability of pure drinking water? The following Earthjustice action alert is for you:
Healthy streams and wetlands reduce flooding and improve drinking water quality for communities all across the country. Wetlands and streams also provide rich habitat for thousands of species of plants and animals.

Unfortunately, the Army Corps of Engineers and the Environmental Protection Agency are now proposing to weaken protections for these important waters by reducing the burden on developers and polluters to provide effective mitigation for the damage they cause.

Please, act today to tell EPA and the Corps that our nation's streams and wetlands must not be destroyed! Send a message via Earthjustice. Or, if you prefer to call, the Capitol switchboard number is 202-224-3121.
Posted by Natalie Davis at 03:24 PM | Comments (0)
June 26, 2006
Ann Coulter, Deadhead
Yes, you read it correctly. Jambands.com features an interview with the notorious right-wing, violently motivated pundit Ann Coulter, author of frighteningly inhumane conservative-themed political commentaries including Treason, Slander, and Godless: The Church of Liberalism. The subject: Coulter's days following the Grateful Dead. And yes, she refers to herself as a Deadhead.
That's cool. As with GLBT people, Deadheads are everywhere. We come from all walks and schools of thought. Plenty of those who talked peace and love back in the day are now GOP assholes with massive stock portfolios, very little interest in the well-being of humankind, and great taste in music. It happens. I hear from someone who knew Coulter in the late 1970s and early '80s -- oh, you have to read his reminiscences! -- that she was rigid and unfeeling even then (though not completely so), and she apparently believed that the members of the Grateful Dead were more conservative than they let on. (Of course, as Paul Simon wrote, a man hears what he wants to hear and disregards the rest.) As Jambands.com's Taylor Hill writes in a paragraph preceding the interview transcript, "Some of her answers WILL piss people off, but there's no doubting her tie-dyed credentials – even if the dye is much more red than blue."
Whatever. There is no ideological litmus test involved in getting on our bus. Everyone's welcome. Can't say the same for what Coulter's vision of what America and the world should be.
Just this little excerpt:
The tie-dye of course. Truth be told I hated tie-dye, though I finally broke down and would wear tie-dyed Dead shirts to concerts solely as a tribute to my fellow Deadheads.

Oddly enough, I like the music. No one believes that I never took drugs at Dead shows (except for the massive clouds of passive marijuana smoke) but I went because I really liked the music. There are various groups I get enthusiastic about for a while, but of all the music I've listened to over the years, the Grateful Dead is the one band I never grow tired of. Apparently, the same is true of me for ski-lift operators.

Moreover, I really like Deadheads and the whole Dead concert scene: the tailgating, the tie-dye uniforms, the camaraderie – it was like NASCAR for potheads. You always felt like you were with family at a Dead show – a rather odd, psychedelic family that sometimes lived in a VW bus and sold frightening looking "veggie burritos." But whatever their myriad interests, clothing choices, and interest in illicit drugs, true Deadheads are what liberals claim to be but aren't: unique, free-thinking, open, kind, and interested in different ideas. Also, excellent dancers! Watching a Deadhead dance is truly something to behold.

Somewhat contrary to the image of Deadheads as hippies, the Dead were huge in my hometown of New Canaan, CT, which is a pretty preppie town. We toyed with the idea of making "Truckin'" our prom song with a "Long Strange Trip" theme, but we ended up with some dorky rainbow theme instead. I tend to associate the Dead with lacrosse players and my favorite fraternities, Fiji and Theta Delt.

The one time I missed not being able to go to Dead shows more than any other since Jerry died was during the Clinton impeachment. There was so much viciousness - killed cats, punctured tires, threats, investigations and slander against those of us favoring impeachment. ... I don't really care what people say about me – I'm a Christian so there's nothing anyone can ever do to me – but I kept thinking: "Boy, would I like to go to a Dead show and dance with happy, friendly deadheads for just one night!"
Check out the entire interview. Likely I'll never be a fan of Coulter's, but see? This serves as another reminder that there is something positive in everyone you meet, if you look hard enough.
A wee bit more from Convertin' Coulter on Red Heads:
TH: It's time to name names. Who are the other Deadheads who have infiltrated the conservative movement?

AC: As a Deadhead and a freedom-lover, I am wounded to the bone that you think the two do not naturally go hand in hand. The Deadheads I just met casually and not through conservative politics were almost always right-thinking, whatever they called themselves. Deadheads believe in freedom – not a government telling people how much water they can have in their toilets or where they can smoke or whether they should be allowed to own a gun. (Remember the photos of Jerry testifying before some Congressional committee while chain smoking? Yeah, he'd really bond with Henry Waxman.) ...

Also there was a big Deadhead Christian group that handed out terrific pamphlets at Dead shows. Admittedly, many of them found God staring into a puddle while high on LSD, but whatever the path, they were very serious Christians – they made Jerry Falwell sound like a secularist.

Either Bobby or Jerry was asked by a Rolling Stone interviewer to denounce all the Young Reaganites attending their concerts in the 80s, and whichever one it was not only refused to attack the young Republicans, but said he liked some of those "rightist" ideas. Consider that when the Dead decided to do something to save the Rain Forest, they didn't harangue poverty-stricken Third Worlders to give up washing machines and electricity. They did it the free market way: buying up parts of the Rain Forest, parcel by parcel. ...

After Jerry died, U.S. Senator Spencer Abraham (R-MI) gave an incredibly touching tribute to Jerry Garcia and the good work the Dead's Rex Foundation had done promoting the arts privately – in contradistinction to millionaire actresses standing up in $50,000 gowns at the Oscars and demanding that hardworking waitresses and truck drivers be forced to support the arts through government taxation. You can look it up in the Congressional Record.

But to answer your question, Senator, I personally have loads and loads of friends who are right-wingers and Deadheads. I couldn't possibly name them all. ... There are: Peter Flaherty, President, National Legal And Policy Center; John Harrison, top official in the Justice Department under Reagan and Bush and now a law professor at UVA; Jim Moody, MIT grad and libertarian attorney (and Linda Tripp's lawyer); Gary Lawson, former Scalia clerk and currently a law professor at Boston University Law School; Andrew McBride, partner at a DC law firm; DeRoy Murdoch, conservative columnist; Ben Hart, right-wing author of Poisoned Ivy out of Dartmouth. Oh, and the conservative talk-radio host Gary Stone in Palm Springs is a Deadhead and kindly plays the Dead as my intro music. When I worked at the Justice Department during law school, I'd be leaving with a whole slew of Reagan or Bush political appointees to see the Dead at RFK. Finally, I believe the great New York subway vigilante Bernie Goetz was a Deadhead.
Imagine that. Bernie Goetz, Ann Coulter... and Spousal Unit and me.
My advice: One, read the interview in its entirety (and check out the other link, "Ann Coulter's 19th Nervous Breakdown" too). Two, be open to hearing all views Listen to what everyone says -- even the person you find most reprehensible probably has an interest or two in common with you. If both sides are on equal footing, that is great news: It opens possibilities for friendship or at least civil acquaintance, for building bridges, for establishing some sort of understanding -- or, perhaps, for ultimately changing minds. I can't imagine that the latter outcome is possible when dealing with the supposed She-Devil of the Right Wing, but who knows?
Posted by Natalie Davis at 12:18 PM | Comments (5)
June 24, 2006
Kudos Soca Warriors
As I keep myself as separate as possible from xenophobic US culture (the world calls it football, you Yanks call it "soccer"; what's up with that?), it's no surprise that the World Cup football competitions are a huge event in my globally oriented household. We tend to root for everyone to do well, even the hardworking US team, though our fave without question is the team from tiny Trinidad and Tobago, the boys from T-n-T, aka the Soca Warriors.
Well, the Caribbean squad went to Germany and put on a great show of strength and determination. Last week's 2-0 loss to Paraguay ended the Warriors' drive for the Cup, but no worries. They know their country and fans are marvelling at the unheralded footballers' unlikely achievement. From the team's Web site:
"It's a massive disappointment," captain [Dwight] Yorke said. "...[W]e wanted to win the game. We wanted to score a goal at the end of it all. That would have made the whole campaign a huge success."

It is, however, one that will only slightly muddy the glorious campaign accomplished by the tournament's smallest participants while their coach Leo Beenhakker has now taken charge of seven World Cup games - four previously with the Netherlands - without a victory, which is a record.

But it would be a rank injustice if that is what the Dutchman is remembered for. He and a modest group of players, the self-styled Soca Warriors, can hold their heads up high.

Yorke, who hinted that he might, once again, retire, said afterwards: "This is a moment of history for the country, the people, the supporters. The way we have played and conducted ourselves makes me very proud."
I might be encouraged to throw on Taylor Hicks' number one hit, "Do I Make You Proud?" right about now, but quoting one of the Warriors' soca-flavored theme songs seems most appropriate. Hear the lively fight song and more here; you can download Chris Garcia's "Wunderbar" as an MP3 here.
"Deutschland, Deutschland
Here come the Soca
Here come the Soca Warriors.
Deutschland, Deutschland
Here come the Soca Warriors.
Wunderbar!"
Or, as Maximus Dan sings it, "I am a So-o-o-ca Warrior. I say win or lose, I am a fighter! ... Every time you see me in my uniform, to get the victory is our norm."
They went, they footballed, and while they didn't conquer, they certainly hung tough, played hard, went much farther than anticipated. The Soca Warriors made their island nation -- and their fans throughout the Caribbean and around the world -- extremely gratified and proud. Wunderbar, indeed.
Posted by Natalie Davis at 05:13 PM | Comments (0)
Friends Don't Let Friends Vote Republican
Found this on the Armchair Activist list (thanks, JN!) and just had to share. It's called "Things Republicans Believe" and can be found at other places on the 'Net. And it's a joke, we know there are GOPsters who don't fit these beliefs, OK? We kid because we are terrified and imperiled and generally pissed off.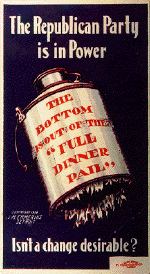 Things you have to believe to be a Republican today:


* Jesus loves you, and shares your hatred of homosexuals and Hillary Clinton.

* Trade with Cuba is wrong because the country is Communist, but trade with China and Vietnam is vital to a spirit of international harmony.

* The United States should get out of the United Nations, but our highest national priority is enforcing U.N. resolutions against Iraq.

* A woman can't be trusted with decisions about her own body, but multinational corporations can make decisions affecting all humankind without regulation.

* The best way to improve military morale is to praise the troops in speeches, while slashing veterans' benefits and combat pay.

* If condoms are kept out of schools, adolescents won't have sex.

* A good way to fight terrorism is to belittle our longtime allies, then demand their cooperation and money.

* Providing health care to all Iraqis is sound policy, but providing health care to all Americans is socialism.

* HMOs and insurance companies have the best interests of the public at heart, as do oil companies.

* Global warming is junk science, but creationism should be taught in schools.

* A president lying about an extramarital affair is an impeachable offense, but a president lying to enlist support for a war in which thousands die is solid defense policy.

* Government should limit itself to the powers named in the Constitution, which include banning gay marriages and censoring the Internet.

* The public has a right to know about Hillary's cattle trades, but George Bush's driving record is none of our business.

* Being a drug addict is a moral failing and a crime, unless you're a conservative radio host. Then it's an illness and you need our prayers for your recovery.

* What Bill Clinton did in the 1960s is of vital national interest, but what Bush did in the '80s is irrelevant.
Posted by Natalie Davis at 04:50 PM | Comments (2)
June 12, 2006
Al Gore Moves On?
Yesterday, MoveOn.org facilitated a conference call between its grassroots-activist membership and the top presidential vote-getter in 2000, Al Gore.
I know lots of people -- myself included -- believe Gore was gypped in 2000. But it is clear to me that the ardent environmentalist loves pouring his energies into issues surrounding global warming and protecting the planet. He's said publicly -- and without ambiguity -- that he will not run for president in 2008.
And I believe him. But I can't help but wonder: I saw An Inconvenient Truth, his gripping and enjoyable climate-change documentary, and thought, Where was that guy in 2000? He's passionate, funny, loose, affable and eminently knowledgeable about his subject. No wonder Tipper's so nuts about him.
Now, there's this, from his MoveOn chat: "My talents and experiences, I believe, are best focused on changing the political environment so anyone who runs can focus on the climate crisis we are facing." What the heck does that mean? He's made no Sherman statement. Is this a potential open door? Might he consider changing the political environment from within? Can his backbone be strengthened regarding the issue of equality? Can he possibly be persuaded to run? And again, where was this guy in 2000?
Just thinking out loud.
Read on, and see what you think. Interestingly, the chat is posted at Draft Gore 2008 (which I just love):
Q) How did the movie come to be?

A) It evolved from a slide show, to a Power Point presentation to the movie that's playing in theaters now.

Q) What got you interested in Global Warming?

A) A professor at Harvard connected the dots predicting the effects of human technology on the ozone.

Q) Why is it so hard to convince people there's a problem?

A) Several reasons:

The relationship between humans and the planet has changed so that it is unrecognizable and nothing has prepared us for the fact that we are the single greatest factor in the functioning of the ecosystem.


Denial ain't just a river in Egypt. It's a natural, human instinct.


There is a tremendous gulf between the scientific community and public perception.


A cynical effort is underway to manipulate the discussion of global warming. Money is being spent by the gas and oil industries to hire pseudo scientists to make it easier to manipulate that public perception.

Q) How do we compel the government to act?

A) There's good news and bad news. The good news is the Kyoto Protocol exists and has been signed by all but the US and Australia. The bad news, not only have we not signed it, this administration seems bent on heading in the wrong direction. More bad news, it's not only Republicans acting poorly on the environment, it crosses party lines. The only way to change the government is by changing public perception and the sense of urgency in the population.
Read the rest of Martha Smithback's recounting of Eli Pariser and MoveOn's fascinating chat with Al Gore; thanks MoveOn, for giving us access. And be thankful that Al Gore, candidate or not, is on our side.
Posted by Natalie Davis at 10:39 AM | Comments (2)
June 08, 2006
Al-Qaeda Loses a Leader
Abu Musab al-Zarqawi, the number-one guy in Iraq, the one responsible for a host of suicide bombings and beheadings of innocents, is dead following a late-night US airstrike in Baghdad.
Those who live by the sword...
From DeathCentral:
When: June 8, 2006
Where: Baghdad, Iraq
Age at Time of Death: 39
Cause of Death: DISPUTED: Bombed to smithereens in a US-led airstrike as first reported or... was Zarqawi beaten to death by US soldiers?
From AP via Forbes:
Abu Musab al-Zarqawi's older brother said the Jordanian-born terrorist mastermind has become a martyr and that the family had long expected his death.

"We anticipated that he would be killed for a very long time," Sayel al-Khalayleh told The Associated Press in a telephone interview from Zarqa, the poor industrial hometown of al-Zarqawi from which he derived his name.

"We expected that he would be martyred," al-Khalayleh said in a low voice, signaling his grief. "We hope that he will join other martyrs in heaven."

U.S. and Iraqi officials announced in Iraq on Thursday that the notorious leader of al-Qaida in Iraq had been killed in an airstrike the night before in a remote region northeast of the capital.

Al-Zarqawi, whose real name was Ahmed Fadhil Nazzal al-Khalayleh, led a bloody campaign of suicide bombings and kidnappings against U.S. and Iraqi forces after the fall of Saddam Hussein.

Al-Zarqawi's family had renounced him in the wake of the triple hotel bombings in Amman in November that killed 60 people, an attack for which al-Qaida in Iraq claimed responsibility. The family told King Abdullah II that they "severed links with him until doomsday."

After the news broke of al-Zarqawi's death, his three sisters, all dressed in black, arrived grief stricken at the one-story family home in Zarqa. The sisters declined to talk to reporters as they entered the house.

The husband of one sister said: "We're not sad that he's dead."
And the latest, as of June 1, from Australia's ABC News, which recounts Zarqawi news appearing in UK publications:
The Observer and the Sunday Times both carry reports on events leading up to Zarqawi's death on Wednesday, citing apparent witnesses to the immediate aftermath of the attack.

In a two-page report, the Observer says that although the claims have not been confirmed, revelations of revenge killings by US troops "means it cannot be discounted".

It quotes one man as saying US soldiers pulled a man resembling Zarqawi from an ambulance where locals had placed him.

He says they wrapped Zarqawi's traditional Arab robe, the dishdasha, around his head and "battered him severely till he died".

In the Sunday Times, 25-year-old labourer Ali Abbas says: "[The US soldiers] were shouting and screaming and in a very tense and agitated mood".

"The Americans tore his dishdasha and they kept on asking him through an interpreter, 'What is your name, what is your name?'" he said.

The troops are said to have been worried that the badly-injured Zarqawi was wearing a suicide belt.

Mr Abbas says the soldiers kicked Zarqawi in the chest until he grew paler and began bleeding from his mouth before he died.

He apparently recognised the dead man as Zarqawi after seeing pictures in newspapers the following day.

The US military has confirmed Zarqawi was not dead after the initial airstrike and that he had tried to roll off the stretcher when he realised the soldiers' identity.
Terrorist, Interrupted: ... Every death is a diminishment, but the really sad news is that the "war" goes on and many others will die. And it's equally sad -- and diminishing -- that Bush, now claiming victory in "delivering justice" of the violent variety, can't find success in delivering nonviolent justice - meaning equality under law - to the US' second-class citizens at home. Bush is correct: Zarqawi won't kill anymore. Can the same be said of Bush? - editor
Posted by Natalie Davis at 01:10 PM | Comments (2)
Politics vs. Principle
The previous article recounts my antipathy not so much for gay-rights lobby group Human Rights Campaign itself, but for its vile M.O.: putting politics before principle. It includes the note I sent to HRC President Joe Solmonese, who is so incrementally expeditious it hurts.
Well, today, a response came from an HRC underling. (Solmonese is probably too busy hanging out with his politico pals.) Below is HRC's reply complete with overfamiliar salutation; my response follows:
Dear NR,

Thank you for your thoughtful e-mail regarding the FMA vote yesterday
morning. Of course, as you pointed out, the supporters of this amendment had not expected to pass it. Defeating this amendment may not bring members of the LGBT community any closer to achieving true equality.

Nevertheless, yesterday's vote was still a victory for equality. FMA
supporters had been predicting that they would receive 52 votes in favor of the amendment, a four vote increase over 2004. However, in
yesterday's vote, there were only 49 votes in favor of the amendment
because two Republican Senators changed their votes from 2004. This
means that rather than gaining momentum, as supporters had claimed, they are actually losing supporters.

As you pointed out, there is still a long way to go. Discriminatory laws like DOMA remain on the books, and many Senators who voted against the FMA still maintain their belief that marriage should be between one man and one woman. As supporters of true equality, we cannot afford to lose sight of the need to continue electing more and more leaders who support true equality.

In this election year, there are also fights across the nation that may have a far greater effect on the future of GLBT equality, and HRC
remains committed to working with our partners in all 50 states to fight these battles. However, it is still important to take a moment to celebrate our victory with the FMA. A gain of one vote over 2004,
especially when Republicans had gained four seats in the Senate, is not the sort of moral victory that amendment supporters were hoping for.

I hope that this explanation is helpful. I understand your frustration with the slow pace of LGBT advancement. I hope that you will join with HRC and other GLBT groups to fight for equality. Please contact me if I can be of further assistance.

Sincerely,
Lennea

Lennea Bower
Field Intern
Human Rights Campaign
1640 Rhode Island Ave NW
Washington, DC 20036
[email protected]
---
Ms. Bower:
I am fighting for equality on the basis of principle. While I wish HRC luck and will encourage people to back its individual campaigns, your organization's aims and strategies differ from mine. When principle is involved, as years of hard lessons and dark disappointment have taught me, HRC isn't part of the mix. Sad. Celebrate if you want, but I am unequal under law and therefore have work to do. Despite HRC's numerous positives, they aren't enough to outweigh the group's insulting, inhumane, cynical and unforgivable political philosophy and its unconcscionable support of folks like Bob Casey. Consequently, I find much of what HRC does is dangerous and ultimately a losing strategy. If you don't get that, it's OK
- only a person operating from a foundation of principles and values could understand.
Ms. Davis
Posted by Natalie Davis at 11:34 AM | Comments (1)
June 07, 2006
Anti-Marriage Equality Bill Fails? Well, Duh...
I have had it with the Human Rights Campaign. Had it. HRC is a great group and fine, committed people work there, but the nation's largest GLBT civil-rights organization is so embedded in the status quo and so invested in the politics of expediency and so embarrassingly immersed in the half-life of going along to get along that it has rendered itself as useless as folks like Bob Casey Jr., Joe Lieberman, Hillary Clinton and Chuck Schumer.
Here are excerpts from HRC President Joe Solmonese's ridiculous take on the as-expected defeat of the Dubya Bush-lauded anti-equality Federal Marriage Amendment (interrupted intermittently when I can no longer contain myself):
In the battle for fairness, the Federal Marriage Amendment suffered a resounding defeat this morning in the U.S. Senate.

Not only did not a single Senator on our side buckle to pressure and advertising campaigns from right-wing groups to switch their vote, but we gained two Senators, Senators Gregg (R-NH) and Specter (R-PA), who voted the other way in 2004.

President Bush and the Republican leadership gambled their dwindling political capital on a discriminatory amendment and came up empty.

To read the coverage in the press, visit here.
That would be great if it meant something. The Republican leadership had no goal other than to push a bill IT KNEW WOULD NOT AND COULD NOT PASS in order to rile up the fundies. (How did it know? Americans by and large may not want to acknowledge GLBT equality, but amending the constitution to include discrimination explicitly... that's huge, nasty stuff. Relatively few people, however heterosupremacist or homo-hating, want to be seen as a jerk, and only jerks would support something so heinous as the FMA. That's why the proposed amendment lost and had to lose.) When Bush of the Low Approval Rating uses an anti-American measure sure to fail as a photo-op for right-wing think tanks, conservative Christian groups and leaders of the "ex-gay" movement, obviously the bill isn't the point: Winning over and re-engaging folks who hate and fear queer people in time for the fall elections is the goal. Where Salmonese sees a "resounding defeat" for the bigots who want to enshrine discrimination in the US Constitution, others see a chance for the Shrub to say "mission accomplished" with justification next November.
This is a day to celebrate. But HRC is already laying the groundwork for what will undoubtedly be an even harder-fought effort in the volatile, right-wing House of Representatives. Speaker Boehner has said today that he will bring the FMA up for a vote in July.
July, eh? Just in time to remind the Red Staters about the need to vote GOP in the fall. Does Solmonese not see this? Or is he, like so many other DINOs, spinning aimlessly and focusing on fatcat donors rather than demanding that his party actually stand up for real equality. No, Salmonese is babbling about the fight for equality while waving the flag for "Democrats" like Pennsylvania Senate nominee Bob Casey Jr., a man who told his state's Catholic League that he doesn't support same-gender marriage or adoptions by gay people. If Solmonese supports Casey, why should I support Solmonese or his organization?
And, pray tell, what in hell are we celebrating: Our continued inequality? Being used as bait to lure fundies back to the Bush camp? Being led down a primrose path of painful pragmatism by an organization that insists we compromise something uncompromisable (that would be equality, Joe) and settle for less-than-full citizenship? Oh yeah, throw a friggin' party.
Our work is far from finished. We're counting on you to continue your active, vocal and determined support of the Human Rights Campaign and the fight for equality.
I support equality. Let's leave it at that.
---
Here is the note I dashed off to Solmonese and the HRC field office:
My god, how naive are you people? The goal wasn't for the FMA to win. The goal was to energize the right-wing base, to raise funds and fear for the fall election. See how that shakes out: Will GLBT people be equal under law or closer to it by November? Or will the GOP maintain its legislative supremacy? I submit that we won't know who was defeated resoundingly (or not) until at least then. And I suspect that the status quo now will be the status quo then and for some time to come. Which means tactics like the cynical, political use of anti-glbt hate and fear ARE successful for the right wing. This "resounding defeat" BS just plays into their hands and empowers the useless, vile anti-gay-when-it-counts Democrats In Name Only like Bob Casey (whom you people insist on supporting, so happy you are to accept any partial show of feigned respect from the hets).

This was going to be the year I considered joining HRC as an official member. Won't happen. I'll certainly support worthy HRC initiatives (Million for Marriage, the ExxonMobil boycott), but I can't join. Immoral means do not justify honorable ends - ever. Neither does supporting DINOs. I have character and integrity and principles to uphold. And I have a brain.

One question, Joe: How many of the senators on your "good guy and gal" list - those who voted against the FMA this time around - voted in favor of the Defense of Marriage Act, the one your boy Slick Willie boasted about on right-wing talk radio in 1996? How many of them would support DoMA now if they thought their political lives depended on it? Ask Barbie Mikulski.

I am disappointed with HRC's response, but surprised? Not in the slightest.

NR Davis
Pretty much says it all. Heaven knows I did try.
Next!
Posted by Natalie Davis at 06:46 PM | Comments (1)
June 06, 2006
Someone's Dead; DeathCentral Lives
My newest project - I don't even want to consider the psychology behind it - is my way of doing something, anything to mark 6-6-06: DeathCentral. From the infant site:
Welcome to DeathCentral, est. 6-6-06, friend of those wondering, as we often do, "Who died today?" Here we report on the demises of the famous and notorious (as determined by DC). You'll find up-to-the-minute mini-obits (with links to related news items), original snark-free obituaries and memorials, refutations of dead-celeb rumors and hoaxes, and more.
Drop by each day and see who died, who didn't, and whatever else turns up - which could be anything. Hey, death has its mysteries, why shouldn't DeathCentral?
Posted by Natalie Davis at 11:09 PM | Comments (0)
June 05, 2006
Bush: Exploiting Hate for Politics' Sake
Why is Dubya Bush pimping the Federal Marriage Amendment again? Is it because he really has something against gay people? Does he really want people unequal under law? Probably not, turns out. According to Newsweek, an unidentified Bush friend calls the Shrub's support for legalized bigotry as "purely political. I don't think he gives a s--t about it. He never talks about this stuff."
Which means he's fighting to enshrine discrimination into the US Constitution for no other reason than for political gain for himself and for the Republican Party. He's got to shore up his Religious Wrong base and distract the nation from Iraq, Iran, dead soldiers, brutal Marines and an abysmally low approval rating. It's sick and shameful. His coopting of extreme-right religious dictates for personal benefit is proof positive that Bush has no character, no principles, no heart. And again, Bush shows himself to be dishonest: This certainly proves the big-spending pol's claim of being a compassionate conservative is the assertion of a lying liar.
(GOPSters aren't the only ones who succumb to this sort of thing: Why don't most mainstream Democrats, who claim to support equality for all, fail to stand up for marriage equality? For their own political comfort. GLBT people need to realize that these cowardly clowns are no better than the Republicans. But I digress.)
Matt Foreman, Executive Director of the National Gay and Lesbian Task Force, agrees that hatred is an instrument Bush has pulled from his political toolbox. From the NGLTF statement regarding Bush's immoral address:
Yes, this is about pandering to his base. Yes, this is about diverting America's attention from his foreign and domestic failures. But above all, this is an immoral attack on gay people, our families and our fundamental humanity.

Today, we saw the president again surrounded by the leaders of America's anti-gay industry, individuals who make a living out of denigrating, demonizing and defaming gay people and our families. The fact that friends of the president say he doesn't even care about this issue is proof-positive of the grip that the forces of religious and political intolerance have on the throat of America.

It is pure hypocrisy for the president to say that all Americans deserve to be treated with tolerance, respect and dignity, while he cozies up to these bigots.

In the not-too-distant future, those involved in this assault, and their descendants, will look back with shame and regret.
I doubt the FMA will pass - the votes don't appear to be there. For all its flaws, Congress isn't quite that hateful. But I fear the negative effects to come from the cynical call for this destructive bill, which only appeals to the worst in people.
Please, take action for the supposedly true American values of equality and justice for all under law: Call your senators via the Congressional Switchboard, 202-224-3121. Speak out against this proposed constitutional amendment. Remind lawmakers that equality for all under law is supposed to cover and protect all Americans, not only those with a government-approved god.
Oh, right: The anti-equality crowd is not equal under law either - its heterosexual members are superior under law. Wait - isn't that reality an un-American concept?
Posted by Natalie Davis at 05:21 PM | Comments (0)
June 03, 2006
Vince Welnick, Fare Ye Well
The curse of the Grateful Dead keyboardists rolls on: Vince Welnick, who tickled the ivories and gave fans a little light during the band's final five years, is dead. Welnick, 55, was found grievously injured yesterday at his home in Forestville, CA; he died a short time later at a local hospital. Mercury News reports that, according to an "unofficial spokesman at the Welnick home... "It looks like he took his own life." That conclusion is only speculation at this point.
Update: On June 7, the Sonoma County Coroner's Office indeed confirmed that Welnick's death was a suicide. At the family's request, no other details were released.
David Gans' KPFA-FM show, "Dead to the World," paid tribute to the late artist on June 14 and 21; the audio files are available at the "Grateful Dead Hour" site.
On June 30, the San Francisco Chronicle shone some light on the details in Welnick's backstory that may explain his tragic end (do read the whole thing; be prepared for details both gory and sad):
Welnick's suicide caught many of his more casual friends by surprise. A fixture in the Bay Area music scene for nearly 40 years and known to thousands of fans of the Dead -- and in the '70s, the Tubes -- Welnick was always an upbeat kind of guy, with twinkly eyes and a lopsided smile. But his cheery exterior was deceptive. Those who knew him better recognized that even during the last years of the Grateful Dead's long strange trip, Vince Welnick was veering along the edge and battling demons that would eventually alienate many musical colleagues. ...

After an earlier suicide attempt about 10 years ago, Welnick started taking antidepressants, but lately, he had been telling friends the pills didn't seem to be working anymore. When he died, according to friends, he was trying to wean himself from the old medication and begin a new drug regimen.

Nobody knows whether there was a direct link between his suicide and the change in his medication, but two years ago the Food and Drug Administration asked antidepressant manufacturers to add a warning on pill bottles about potential suicide risk during changes in dosage. ...

Only days before departing for the final 1995 Grateful Dead tour, Welnick received a double diagnosis from his doctor. He needed an operation for throat cancer that could possibly affect his singing voice, and he had emphysema. He postponed the surgery until after the tour. When Garcia died Aug. 9, shortly after the band returned home, and the band members announced that they would no longer continue to perform as the Grateful Dead, Welnick felt his world collapse and he sank into depression.

That December, on the RatDog tour bus before a show in Santa Barbara, Welnick spilled out the contents of a Valium bottle and counted 57 pills. He took them all, climbed in his bunk and waited to die. The tour manager accompanied him to the hospital, while the rest of the band played the show. After he recovered, Welnick sought psychiatric treatment and began taking antidepressants. He never played with RatDog again.

The Grateful Dead has always been very much a man's world with a strict code of behavior, carefully developed over the many years of the band's history. Many insiders privately found Welnick's dramatic grieving out of proportion for someone who had belonged to the band as briefly and late in the day. The other four members had been with the Dead since the beginning, more than 30 years before. Welnick was the last "new man," the sixth player to the keyboard slot.

He bombarded the Dead's office with phone calls, proposals to put the band back together, always with himself on keyboards. He wrote new songs to already published lyrics he found in the book by Dead lyricist Robert Hunter. He reserved special anger for Dead drummer Bill Kreutzmann, who moved to Hawaii right after Garcia's death, effectively removing himself from the scene and barring any reunion efforts, in Welnick's mind. ...

Welnick was frustrated at every turn. He could not use the band's rehearsal hall for his group. He was not allowed to borrow equipment from the Dead when he went into the studio to record some demos in April 2000. ... But an announced reunion of all four remaining original members of the Dead at a two-day rock festival in Alpine Village, Mich., in August 2002 sent Welnick overboard. He fixated on certain phrases -- "Grateful Dead family reunion" and "surviving members of the Dead" -- wondering how he could have been excluded, according to his friend Mike Lawson. Welnick went to the festival, Lawson said, played the night before at a local Thai restaurant and performed a campground show the night of the event, hoping there would be a last-minute call that never came. ...

The members of the Dead were uncomfortable with Welnick and his obsessive behavior. There were certain kinds of craziness the Dead circles would not tolerate. "It was getting bigger and bigger," Weir said. "We could all feel that and we chickened out. Yes, we did. We all had lives to lead and we all had bands to play with.

"I'm sorry," he continued. "I'm sorry for Vince. But stuff doesn't always work out the way people want. And he became more and more difficult to work with as his disease progressed." ...

Weir spoke about Welnick with the shell-shocked tone of someone still trying to make sense of something that ultimately will never add up.

"I wish I could have helped," Weir said. "I tried, but I failed. The people closest to him wish they tried, but they failed. He tried himself and failed. That's the story and it's a sad one."
Welnick's death caps another period of loss for those surrounding the Grateful Dead. Three other members of the band's extended family have died since May 17: roadie Lawrence "Ramrod" Shurtliff, guest drummer Hamza El-Din and road manager Jonathan Riester.
Phoenix native and classical-piano student Welnick earned many of his rock-and-roll chops while playing keys for a group called the Beans that moved to San Francisco in 1971. There, the band changed its name to the Tubes and scored the 1975 classic cult fave "White Punks on dope" and a 1983 hit record, "She's A Beauty." After the band's breakup, Welnick landed a gig working with Todd Rundgren. In 1990, Grateful Dead keyboardist Brent Mydland died and the band invited Welnick to audition for the vacant spot.
The morbid among us may know that Grateful Dead keyboardists have a history of shortened lives. Tom Constanten, who played alongside pianist, organist and blues harpist Ron "Pigpen" McKernan from 1968 to 1970, is still among us, but "Pig" was not so fortunate: McKernan left us in 1973. Only 27 years old, the hard-drinking pal of Janis Joplin died from a stomach hemorrhage exacerbated by alcohol-fueled liver damage. The next keyboardist to accompany Pigpen was Keith Godchaux, who remained with the band until 1979; he died in a car accident the following year. The aforementioned Mydland replaced Godchaux and holds the record for the longest stint as Grateful Dead keyboardist. His 1990 death was the result of a drug overdose.
The looming specter of McKernan's, Godchaux's and Mydland's demises apparently didn't dampen Welnick's joy at being chosen for the gig in 1990.
Welnick told an interviewer with the Vermont Review that the tryout was exciting. Before he played, the band sent him tapes and CDs, but he didn't have a CD player. He practiced in the hayloft of his barn and then waited for two weeks before he heard he was in.

"That fact that I screamed a lot as a child paid off and got me into the Grateful Dead," he told the paper.... "I was somewhat paralyzed playing at first. I remember... thinking to myself: 'Come on fingers, let's get unstuck. Let's get loose here.' Then I heard this ripple in the audience and there was a kid who yelled, 'Welcome Brother Vince!' and there were stickers that said, 'Yo Vinnie' stuck to the side of my keyboard. The crowd was very forgiving."

He told the interviewer that he'd never seen the likes of such music, friendship and spirit and did not know if he ever would again.
In 1995, Welnick's world came crashing 'round him. He was already putting his health in jeopardy: Before that year's Grateful Dead summer tour, the musician was given a cruel double diagnosis: lung cancer and emphysema. Still, he took to the road with the band for a tour that turned out to be inordinately stressful and often unkind. A month after the tour came to a merciful close, Jerry Garcia, the Dead's driving force and Welnick's dear friend, died after years of heroin abuse.
As tragic as all that was, things were to get worse.
The following comes from Mike Lawson, webmaster of VinceWelnick.com:
Vince never got over the cruel way that the Grateful Dead band members treated him after Jerry died. He never got over the sorrow of losing Jerry, facing his own demons without his friend and could not understand how the remaining fellow band-members treated him like shit the past several years.

I cannot possibly describe to you the hurt and anguish he felt when "The Dead" decided to have a "Family Reunion of the SURVIVING MEMBERS" of Grateful Dead, a band that he was no mere sideman for its last five years, but a full member of by order of Jerry Garcia. How damned insulting was it to have a "surviving members family reunion" and not invite your new brother? He was the proverbial red-headed step-child to them. Did it occur to you how that hurt him, Bill, Bob, Phil, Mickey? The truth is that you selfish bastards did not care if it hurt him. He's a big boy, he just had to get over it, right?

I remember seeing Todd Rundgren at the "Walk Down Abbey Road" show in Concord, CA, around the same time when that "Family Reunion" was booked. He asked how Vince was, and I told him about this "family reunion" concert of SURVIVING MEMBERS and how Vince was specifically not invited, but in fact was playing a gig at a campground not far from the show. Todd said, "Uh, Vince isn't dead, isn't he a surviving member?" He got the irony. I got the irony, but I also saw the hurt like none of you can believe. Vince kept a brave face about it, trying to remain cheerful, hoping that somehow, someday the tide would turn, the phone would ring and it would be Bob Weir calling him. Calling just to say, "How are you, Vinny?" Something. Anything.
I remember the "Family Reunion" and at that time wondered aloud to the spouse why Vince Welnick wasn't on the bill along with Weir, Lesh, and the rest. Shortly thereafter, a newspaper interview appeared in which Welnick talked about how there was a scheduling conflict and that he really loved the guys and hoped to make music with them again. Then, I figured he was following his own road, leading the Missing Man Formation and down the road, playing briefly with Weir's band Ratdog and with an assortment of jambands (most recently Gent Treadly).
In the end, those brothers had kind words for Welnick. From GD.net:
The wheel is turning almightily fast. Life is loss, but our times have turned sorrowful indeed. It is with very heavy hearts that we must tell you that Vince Welnick passed away today, June 2, 2006. His service to and love for the Grateful Dead were heart-felt [sic] and essential. He had a loving soul and a joy in music that we were lucky to share. We grieve especially for his widow Lori, his sister Nancy, and the rest of his family. Our Grateful Dead prayer for the repose of his spirit. May the four winds blow him safely home.
Can't help but wonder whether things might have ended differently if those sentiments had been expressed sooner. The likelihood is that they had been expressed and felt - the story, as the Chronicle June 30 demonstrates, is a complicated one and misunderstandings occur often in the course of human relations.
Welnick, by all accounts, had been depressed and self-destructive for a long time. I believe his compatriots cared about their colleague and friend but were unqualified to deal with what ailed him. Surely you've had a friend in trouble so deep that there was nothing you could do to help. In any case, it is clear that Welnick felt abandoned and unvalued.
If it's any comfort, for as long as it stands, the Rock and Roll Hall of Fame in Cleveland, OH, will include among its inductees all the official members of one magical (if not so love-and-peace-y as many believed) improv-minded band of musical pirates: Tom Constanten, Jerry Garcia, Donna Godchaux, Keith Godchaux, Mickey Hart, Robert Hunter, Bill Kreutzmann, Phil Lesh, Ron "Pigpen" McKernan, Brent Mydland, Bob Weir... and Vince Welnick. If anyone questions Welnick's worth or doubts the legitimacy of his membership in the Dead Family, fact and the annals of rock history state his position quite clearly.
Posted by Natalie Davis at 12:23 PM | Comments (7)
MT restructuring, design and graphics
by Natalie Davis
Powered by Movable Type 3.121
Hosted by Cyber Wurx
Valid XHTML and CSS
All text and graphics (most photos excepted), unless otherwise noted, are the work of Natalie R. Davis. In regard to comment spam: Commercial advertising on this site via the comment feature or anywhere else is strictly prohibited without the consent of the editor. Any comment containing such advertising will be immediately deleted from this site, the IP address used to enter the comment will be banned, and legal action may be taken against the party responsible for entering the comment and/or on whose behalf the comment was entered. Those sending abusive comments or messages containing bigotry, etc. will have those comments deleted and their IP addresses banned.

You may contact the editor at ndavis196 - at - yahoo - dot - com. Any email sent is assumed to be fair game for publication unless the sender explicitly states that the content is not intended for broadcast.

FAIR USE NOTICE: This site contains copyrighted material the use of which has not always been specifically authorized by the copyright owner. We are making such material available in our efforts to advance understanding of environmental, political, human rights, economic, democracy, scientific, and social justice issues, etc. We believe this constitutes a 'fair use' of any such copyrighted material as provided for in section 107 of the US Copyright Law. The material on this site is distributed without profit to those who have expressed a prior interest in receiving the included information for research and educational purposes. For more information please review Title 17, Sec. 107 of the US Code. If you wish to use copyrighted material from this site for purposes of your own that go beyond 'fair use', you must obtain permission from the copyright owner. For more information please review Title 17, Sec. 107 of the US Code. If you wish to use copyrighted material from this site for purposes of your own that go beyond 'fair use', you must obtain permission from the copyright owner.

This site is licensed under a Creative Commons License.
© 2000-2005 Natalie Davis, Grateful Dread Design

Privacy and Youth Policies